Electrical Assembly Position
Electrical Assembly Position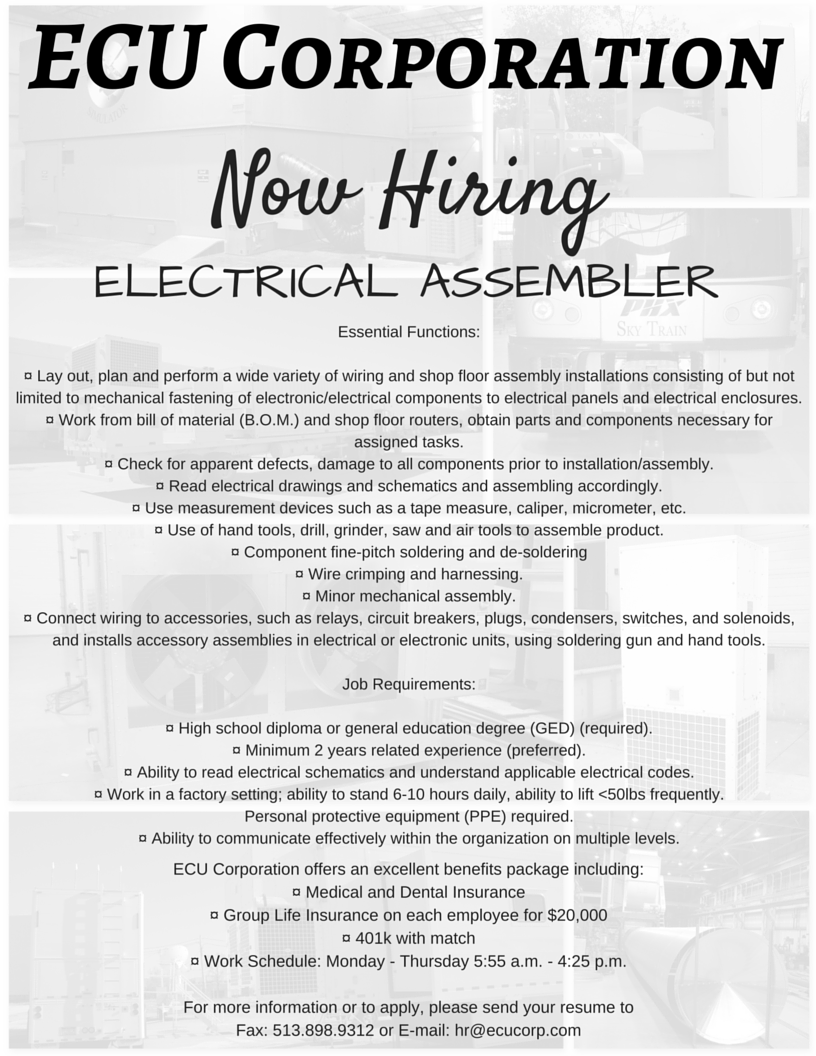 Electrical Assembly 
Essential Functions:
Lay out, plan and perform a wide variety of wiring and shop floor assembly installations consisting of but not limited to mechanical fastening of electronic/electrical components to electrical panels and electrical enclosures.
Work from bill of material (B.O.M.) and shop floor routers, obtain parts and components necessary for assigned tasks.
Check for apparent defects, damage to all components prior to installation/assembly.
Read electrical drawings and schematics and assembling accordingly.
Use measurement devices such as a tape measure, caliper, micrometer, etc.
Use of hand tools, drill, grinder, saw and air tools to assemble product.
Component fine-pitch soldering and de-soldering
Wire crimping and harnessing.
Minor mechanical assembly.
Perform various complex electronic assembly operations such as Harnessing and Circuit Card Assembly (CCA) builds.
Determine or follow methods and sequence of operations in performing various complex electronic assembly operations.
Ensure that quality checks are completed throughout the manufacturing process.
Record information on production records, logs and other report forms.
Rework and repair defective units rejected by inspection or test personnel.
Connect wiring to accessories, such as relays, circuit breakers, plugs, condensers, switches, and solenoids, and installs accessory assemblies in electrical or electronic units, using soldering gun and hand tools.
Conduct functional and continuity tests of electrical assemblies, components, wire harness, and plugs, using ohmmeter, test lights, and other electrical testing instruments.
Pot or encapsulates electrical and electronic details.
Job Requirements:
High school diploma or general education degree (GED) (required).
Minimum 2 years related experience (preferred).
Ability to read electrical schematics and understand applicable electrical codes.
Work in a factory setting; ability to stand 6-10 hours daily, ability to lift
Ability to communicate effectively within the organization on multiple levels.
Basic PC knowledge (ability to operate a keyboard and basic navigation between screens within an application).
Salary Range: 15.00 - 18.00 Hourly. 
Please submit resume to hr@ecucorp.com or fax to 513.898.9312.